Gangs of New York (2002)

Jim Broadbent plays Governor William Tweed Also starring Cameron Diaz, Leonardo DiCaprio, Daniel Day-Lewis and Liam Neeson

"America was born in the streets"
Plot Summery: This $90m movie is set in the period from 1846 to 1863 during the draft riots. It is the story of how Irish and Italian gangs (and subsequently, the Mafia) got started in New York City in the time of Tammany Hall and Boss Tweed. The two gangs at the heart of this film are the Dead Rabbits and the Native Americans. Amsterdam Vallon (DiCaprio) is the son of the Rabbits' murdered leader (Neeson), and he vows vengeance on the man who killed him, Bill "The Butcher" Poole (Day-Lewis). Cameron Diaz plays a thief that falls in love with Vallon.
Release Dates: The initial plan was that Gangs would be released in the US on December 21st 2001 and in the UK on January 4th but Miramax then delayed the release until July 2002 and was since further postponed until December 25th in order to be among the Oscar hopefuls for 2002. The latest release date is now set at 20th Dec in the US and January 10th in the UK.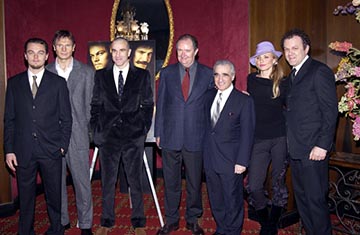 New York Premiere 09/12/2002
Patrick's comments: Hardly out of the Moulin Rouge fat suit, Jim plays yet another weighty character in this movie. Production started on August 30th, 2000 at the Cinecitta studios in Rome, where the New York City of the mid-19th century was recreated. Scorsese prefers do do things the old way and build sets over a mile long rather than use computer technology.
"It starts with a big fight and ends with a big fight and in the middle there's, well... more fighting". That was the conversation I over heard from a young man behind me as I left the cinema. He was helpfully explaining the plot to his friend who fell asleep shortly after the 'first big fight'! I know Scorsese is a respected director and I know that he has been working on this idea for the best part of thirty years but I must say that this just isn't my kind of film. Too much gratuitous violence and not nearly enough laughs. It's kind of surprising that Broadbent accepted such a role really; I suspect he didn't want to turn down the opportunity of working with Scorsese. Tweed isn't the sort of character that Broadbent would normally be attracted to. The one outstanding thing in this movie is Daniel Day-Lewis's performance... he's one scary man! If (unlike me) you like your films with lots of blood and lots of knives then you'll no doubt enjoy this one!
New York Premiere: Gangs of New York opened in New York on 9th December - Broadbent wasn't there.
London Premiere: Tuesday 7th January '03 at the Empire in London's Leicester Square. The following photos were taken outside the theatre.
Jim says: "When I was given the script for Gangs, the first thing I read was "A vast man, with enormous girth, enters the room..." I had to get Scorsese on the phone and tell him I'm not really that fat." (FHM Oct 2001). According to an interview in the Sunday Times around the same time, Broadbent insisted on a more restrained paunch, explaining that otherwise, "Everyone would think I was fat all the time."
---


See what the Internet Movie Database says about this film
thanks to Robin of AYN2K for additional photos